Latest news
Siggy @ Sep 11, 2006 03:54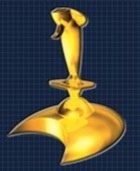 The oldest and most respected gaming awards show, Golden Joystick Awards, breaks records and the expectations of show organisers. The public can vote their favorite nominees in 17 different categories. Last year "merely" 200,000 votes were cast in order to define the best games, publishers and retailers of the year. This year the count has exceeded 400,000 and the vote is still open for everyone.
Golden Joystick Awards debuted in 1982, when Atari, Commodore and Spectrum were the gaming platforms. Hosted by ComputerAndVideoGames.com, the Golden Joystick Awards have become the stage of the industry's most prestigious awards ceremony. The winners are decided by a public vote which is hosted by ComputerAndVideoGames.com at www.goldenjoystick.com/ and will be open until Friday 12th of October. The ceromony is held on Friday, 27th October at the Park Lane Hilton, London and the first time in history is streamed live at www.computerandvideogames.com.
In most of the 17 categories there are no clear winners yet. Guitar Hero is leading the Innovation category, Halo 3 in head of both Wii and PlayStation 3 in One to Watch, and for the first time in Golden Joystick history handheld title could win the Ultimate Game of the Year as New Super Mario Bros. is in the lead.
Golden Joystick Awards 2006 - Current Top Five Rankings
Ultimate Game of the Year
* New Super Mario Brothers
* The Elder Scrolls IV: Oblivion
* Call of Duty 2
* Half Life 2
* Pro Evolution Soccer 5
One to Watch
* Halo 3
* Nintendo Wii
* Sony PlayStation 3
* Spore
* Crysis
Innovation Award in association with T3 Magazine
* Guitar Hero
* Xbox Live Marketplace
* Nintendo Wi-Fi Connect
* Prof Kawashima's Brain Training
* Nintendo DS Lite
Retailer of the Year in association with Vivendi Games
* Game
* Amazon.co.uk
* Play.com
* GameStation
* Gameplay.com
Publisher of the Year in association with Sonopress
* Ubisoft
* RockStar
* EA Games
* Nintendo
* Microsoft Game Studios
Source:
Press Release

Comments
(No comments posted yet.)