Latest news
DVDBack23 @ Feb 18, 2013 00:52 | 3 comments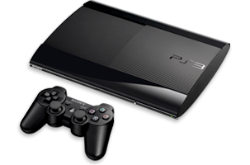 Sony has uploaded the third part of its 'Evolution of PlayStation' series, covering the current generation PlayStation 3 console.
The first video released by Sony on the history of PlayStation ahead of the PS4 launch event, covered the beginning of the brand with the 1995 release of the original PlayStation.
Next, the company released a video highlighting the PS2, the best selling home console of all time.
Now, we have the evolution video for the PlayStation 3, released in 2006. The console has sold 75 million units since release, and was the first console to offer Blu-ray support. Additionally, the console offers users free access to online gaming through the PlayStation Network.
Check the video here:
Previous Next

Comment by: A5J4DX (Feb 18, 2013 06:11)
until the ps4...

---
Comment by: Mysttic (Feb 18, 2013 14:15)
Anyone notice they had far less hype and say about the PS3 than the other 2 vids on PSX and PS2?
Comment by: Jemborg (Feb 24, 2013 15:01)
What "ultra-powerful" graphics chip???

---
Its a lot easier being righteous than right.