Latest news
DVDBack23 @ Jun 12, 2008 20:18 | 2 comments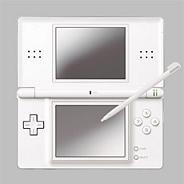 Nintendo has announced that it will be teaming up with Activision to release their first third party hardware bundle for the DS handheld. The bundle is part of the launch of the anticipated Guitar Hero: World Tour.
The bundle will include an exclusive silver and black console with Guitar Hero: World Tour branding, the game, and the necessary peripheral to play the game. The game is set to go on sale on June 22nd.
"We are thrilled to be the first third-party publisher to partner with Nintendo on this unique offering," said Dusty Welch, head of publishing for RedOctane.
Activision's Guitar Hero franchise is becoming one of the largest blockbusters in history and in just a few years has already surpassed $1 billion USD in sales in just the North American region.

Comment by: o0cynix0o (Jun 13, 2008 01:06)
I saw a picture of the add on. Lets just say I wasn't impressed, and neither was the clerk at Game Crazy. I'm so sick of this franchise. But then again I'm pretty sure some people are sick of GTA as well.
Comment by: susieqbbb (Jun 13, 2008 05:12)
this game sucks i imported it from japan great song list.

bad gameplay reminds me of the cell phone version of guitar hero.