Latest news
Dela @ Feb 17, 2013 01:53 | 5 comments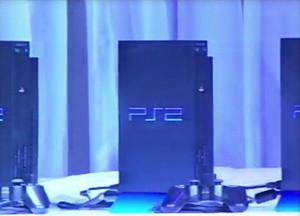 Sony has uploaded the second part of its 'Evolution of PlayStation' series, covering the incredible success of the PlayStation 2 console.
The first video released by Sony on the history of PlayStation ahead of the PS4 launch event, covered the beginning of the brand with the 1995 release of the original PlayStation.
This video covers the world's most successful video games (home) console, the PlayStation 2. It has sold more than 150,000,000 units worldwide, and has a library of more than 10,000 games. You probably have one gathering dust somewhere now, but when it launched in 2000, the PS2 came with the emotion engine providing excellent graphics improvements, and of course a coveted DVD drive, providing far more capacity than the 700MB discs that contained PS1 games.
Supporting playback of DVD-Video was also huge in 2000, and Sony later went on to release the EyeToy add on, and the network adapter that provided online play for compatible titles.
Watch the video of the biggest selling home console of all time.

Comment by: A5J4DX (Feb 17, 2013 04:21)
the legend! guess its official with these videos ps4 is here!

---
Comment by: Burnasty (Feb 17, 2013 08:00)
http://en.wikipedia.org/wiki/List_of_best-selling_game_consoles
not the best selling ever!

---
Buy the ticket, take the ride. -H.S.T.
Comment by: bigdan45 (Feb 17, 2013 08:44)
Originally posted by Burnasty:

---

http://en.wikipedia.org/wiki/List_of_best-selling_game_consoles
not the best selling ever!

---
They said ONE OF. Not the best.

---
Comment by: Dela (Feb 17, 2013 12:00)
Originally posted by Burnasty:

---

http://en.wikipedia.org/wiki/List_of_best-selling_game_consoles
not the best selling ever!

---
It's the best selling HOME console ever. If you count the DS as a gaming device that has sold more, but the PS2 has sold more than any home console in history. So this one I didn't get wrong :-)
Comment by: yuanyuan (May 17, 2016 05:03)
"There is great buzz regarding different candidates running for the congress. There are total seven candidates who are running for the New York 13th congressional district seat. Presently the seat is held by Mr. Charles Rangel. Some of the most popular candidates for the seat are Allianza Dominicana, Adam Clayton Powell, Keith Wright, Adriano Espaillat, Suzan Johnson Cook, and Clyde Williams and yes Michael Gallagher. There is no doubt that all candidates want to grab success when it comes to occupying the seat. Mike Gallagher is also a candidate for the post. Now, the question arises here why Mike is running for the congress. There are different reasons behind the claims or slogan such as Keigth Wright Running For Congress. So, let's find out the reasons below why Mike has decided to contest for the seat.

New Yorkers Want Progress

This is the first and surely the key reason why Mike is running for congress. He has observed that people in New York are highly fed up with existing system. They want only change. They want to see things functioning within their budget. Since it is a hard task to accomplish for families living in New York with limited budget, Mike wants to do something for the betterment of everyone. However, there are other candidates too claiming to create big changes for the society such as Clyde Williams congress 2016, but Mike's claim has valid weight. It is a fact that people residing in the 13th congressional district want a leadership that can guide them through the real progress. Since Mike Gallagher has introduced an exclusive progress system, he is considered as the most potential candidate for the congress. However, there is great buzz regarding Keigth Wright running for congress, but the final result will be declared by the New Yorkers. So, wait and watch."
asics shoes
coach factory outlet
yeezy boost 350
mizuno running shoes
ugg outlet
nike huarache black
fitflops sale
nhl jerseys wholesale
burberry uk
running shoes
louboutin outlet
reebok shoes
coach purses
polo ralph lauren outlet
gucci borse
prada outlet
chi flat iron
gucci outlet
oakley sunglasses,oakley sunglass,cheap oakley sunglasses,oakley sunglasses cheap,oakley sunglasses outlet,oakley store,oakley outlet,oakley outlet store,oakley sunglasses sale,oakley sunglasses discount
prada sunglasses
kate spade outlet
nba jerseys wholesale
cheap ray-ban sunglasses
designer handbags
ray ban sunglasses
vans outlet
jordans shoes
converse shoes
michael kors handbags
michael kors outlet online
oakley sunglasses wholesale
ray ban sunglasses
burberry outlet
asics gel nimbus
oakley outlet
nike cortez white
longchamp bag
ed hardy outlet
oakey sunglasses wholesale
rolex replica watches
yeezy boost 350
polo ralph lauren
christian louboutin shoes
toms outlet
ghd hair straighteners
michael kors purses
ray ban sunglass,ray ban sunglasses,ray ban outlet,cheap ray bans,cheap ray ban sunglasses,cheap ray bans,ray bans
adidas shoes uk
michael kors handbgas
coach outlet online
mlb jerseys wholesale
kate spade outlet
nike air max
rolex submariner
michael kors outlet clearance
ecco shoes
yeezy boost 350 white
nike air max uk
burberry
adidas superstars
louboutin shoes
pandora jewelry
jimmy choo outlet
jimmy choo shoes
versace sunglasses
michael kors outlet
cheap nfl jerseys
supra shoes
valentino outlet
lululemon outlet
christian louboutin
versace
nike tn
kate spade outlet
nike free runs
michael kors outlet stores
louis vuitton borse
converse shoes
coach outlet clearance
cheap jordan shoes
polo ralph lauren
true religion outlet
armani exchange
ugg outlet
burberry outlet
puma shoes
jordan pas cher
ray ban sunglasses
babyliss flat iron
louboutin pas cher
fitflops outlet
ray ban sunglasses
valentino shoes
toms shoes
nike trainers
dior sunglasses
converse
chaussure louboutin
louis vuitton pas cher
true religion jeans
cheap jordans
reebok uk
toms shoes
burberry outlet online
cheap nfl jerseys
michael kors outlet clearance
canada goose jackets
ray bans
instyler max
cheap jordans
coach factory outlet online
ralph lauren outlet
ferragamo shoes
hollister sale
under armour outlet
nike store uk
yeezy boost 350 black
cheap oakley sunglasses
polo ralph lauren
rolex watches
sac longchamp pliage
michael kors outlet
cheap ray ban sunglasses
lacoste shoes
michael kors handbags
michael kors handbags
adidas supercolor
adidas gazelle
supra for sale
michael kors outlet clearance
louis vuitton outlet online
polo ralph lauren
michael kors outlet
designer handbags outlet
coach outlet
coach outlet online
oakley sunglasses outlet
nike cortez
cheap oakleys outlet
ralph lauren pas cher
cheap nike shoes
ghd flat iron
bottega veneta
under armour shoes
coach factory outlet online
yeezy boost 350
toms wedges
cartier watches
oakley sunglasses
michael kors handbags
new balance outlet
louis vuitton outlet online
oakley sunglasses outlet
ralph lauren outlet
reebok
polo ralph lauren outlet online
cheap oakleys
omega watches
coach outlet online
wholesale nike shoes
michael kors outlet
coach factory outlet
ralph lauren
michael kors bags
canada goose jackets
pandora charms
hollister co
fitflop uk
hermes uk
skechers shoes
coach outlet store online
michael kors handbags
coach factory outlet online
abercrombie and fitch
cheap jordans
louis vuitton bags
hollister
oakley sunglasses
bottega veneta handbags
nike air max
nike blazer
adidas nmd white
coach outlet
fitflops sale clearance
true religion
armani jeans
nike air max
michael kors outlet
coach outlet
true religion outlet
omega seamaster
adidas pure boost
adidas stan smith
air force 1
kate spade outlet
coach factory outlet
ray-ban sunglasses
coach outlet online
michael kors handbags
ralph lauren uk
basketball shoes
michael kors bags
christian louboutin uk
polo ralph lauren
nike air max 90
micahel kors
adidas superstar
levis 501
adidas trainers
michael kors outlet
louis vuitton outlet
burberry handbags
adidas nmd
stephen curry shoes
nike huarache
michael kors handbags
louboutin outlet
lacoste outlet
fitflops shoes
lululemon sale
hermes belt
air jordans
michael kors outlet online
oakley sunglasses
cheap ray ban outlet
adidas nmd
michael kors handbags
vans shoes
salvatore ferragamo
nike roshe run women
ed hardy uk
cheap air max
nmd adidas
longchamp outlet
sac longchamp
converse all star
fitflops sale
cartier watches for sale
gucci handbags outlet
ray ban outlet
reebok outlet
air max 95
ralph lauren outlet online
adidas shoes
michael kors outlet
adidas nmd
michael kors outlet clearance
coach factory outlet
"Crime Should Be Reduced

It is observed that common people in New York have got fed up with increasing crime rate. They just want to get it reduced as much as possible. This is another reason why Mike Gallagher is fighting for the New York 13th congressional district. Mike wants to reduce the rapidly increasing the crime in the city. For this, he has designed a plan that can help cops removing anti-social elements from the society. However, there is much roar about Clyde Williams congress 2016, but New Yorkers have decided to do something new. People in the city are willing to know about a leader who can reduce the crime rate to create a peaceful society.

Fundamental Facilities

Keith Wright running for congress doesn't mean that Mike is not attractive people towards him. Mike is very serious about a few things such as crime rate, progress and how to arrange most fundamental facilities for people in the jurisdiction. This might be a key reason why Mike Gallagher has determined to stand for New York 13th congressional district seat. He is ready to help people grabbing a lifestyle that they are always dreaming about."