Latest news
Dela @ Feb 17, 2013 01:31 | 6 comments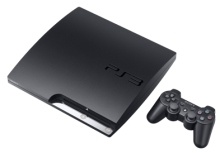 Wedbush Securities analyst Michael Pachter has said it is very likely that Sony will cut the price of PlayStation 3 (PS3) consoles as it unveils the PS4 in New York next week.
Pachter told GamesIndustry International that a cut was likely by February 21, the day after the Sony PS4 event. He predicts a cut to $199 for the console, and that Microsoft will respond with price cuts for the Xbox 360 console before E3.
Sony may decide to cut the PS3 price to keep gamers interested in buying a new PS3 console, even as it starts to court them with the PlayStation 4 (PS4) before it starts to launch - expected this holiday season.
During Black Friday last year, PS3 bundles sold for $199, and now typically sell for $100 more than that.

Comment by: A5J4DX (Feb 17, 2013 04:18)
its all about the ps4

---
Comment by: coorva (Feb 18, 2013 15:46)
sure and the PS4 will cost $400 and not play used games!! im in,,NOT

---
microsoft
after a ban wave
Comment by: cazer (Feb 19, 2013 08:28)
Originally posted by coorva:

---

sure and the PS4 will cost $400 and not play used games!! im in,,NOT

---
And you know that the ps4 will not play used games. People are funny creatures
Comment by: abelahar (Oct 24, 2016 09:47)
after reading this article inspired many of my .
cara menggugurkan kandungan
obat aborsi
tanda tanda kehamilan
kalkulator kehamilan
Comment by: lzm00 (Aug 15, 2017 07:54)
http://www.burberry.org.au burberry
<H1><a href="http://www.yeezy-boost-350.us" title="yeezy boost 350"><strong>yeezy boost 350</strong></a></H1>
yeezy boost 350
Ray Ban wayfarer sunglasses
<a href="http://www.raybanaviator.us/"><strong>ray ban aviator</strong></a>
<a href="http://www.nike-free-run.us">nike free run</a>
<a href="http://www.burberryoutlet.co" title="Burberry Outlet"><strong>Burberry Outlet</strong></a>
<H1><a href="http://www.balenciagabag.us"><strong>balenciag bag</strong></a></H1>
Comment by: lzm00 (Aug 15, 2017 07:54)
http://www.burberry.org.au burberry
<H1><a href="http://www.yeezy-boost-350.us" title="yeezy boost 350"><strong>yeezy boost 350</strong></a></H1>
yeezy boost 350
Ray Ban wayfarer sunglasses
<a href="http://www.raybanaviator.us/"><strong>ray ban aviator</strong></a>
<a href="http://www.nike-free-run.us">nike free run</a>
<a href="http://www.burberryoutlet.co" title="Burberry Outlet"><strong>Burberry Outlet</strong></a>
<H1><a href="http://www.balenciagabag.us"><strong>balenciag bag</strong></a></H1>