Latest news
DVDBack23 @ Mar 02, 2012 03:22 | 2 comments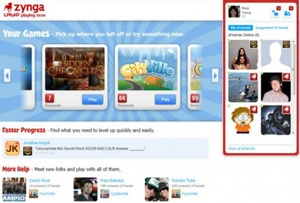 Zynga has made a huge move today, announcing the launch of their own game portal.
The portal will help the company be less dependent on Facebook, the company for which it produces 12 percent of total revenue. Although the new service will still be "fully Facebook-connected," the company will also open up its gaming platform to third parties.
To access the site you will need a Facebook login.
Included in the beta of the platform are blockbuster hits like CastleVille, Zynga Poker, Hidden Chronicles, and CityVille.
Says Zynga:
The Zynga Platform is designed with two simple goals: more access to the best social games and more people to play with. In a few days we're turning on a beta of Zynga.com which will feature our most popular games: Words with Friends, CastleVille, Zynga Poker, Hidden Chronicles and CityVille. Soon after, we will be adding great games from other developers too.Every day, we think about the challenges in enabling play. How can we surface more friends that want to help you build your bridge in CityVille? How do we help you find your perfect match in Words With Friends?

Zynga.com is designed to make it easier for you to play with friends. We're excited to offer new features like the live Social Stream which will enable you to play in real time with your friends and find new ones. Player profiles will let you check your friends? helpfulness score to see who's most likely to help you back. And you?ll be able to chat and play live with your friends and a community of players interested in the same games as you.
More info here: Zynga Blog

Comment by: LordRuss (Mar 02, 2012 15:49)
Urp... I think that was sausage with maple stomach bile... from 3 days ago... Zynga games are pretty nice & kind of a decent time waster if you have a few hours to kill, but I REALLY loath the 'real' money for virtual money, pay to play approach to longevity to social casting in their make-up. I.e., you're not shit if you don't spend oodles of money to play.

Equally so, you're a garbage player if you have to pay a king's ransom to remove all skill from the game in order to play it. Why call it a game at all?

I shouldn't dump on Zynga. They've found a formula that works & people enjoy your work. Hell, I even enjoy some of their stuff. It's just the seeming coerced/forced means of progression that I don't care for.

---
http://onlyinrussellsworld.blogspot.com
Comment by: A5J4DX (Mar 02, 2012 16:48)
dont play any of their games anymore...

---